Ron Warrington
Managing Partner
Ron has over 25 years experience as an entrepreneur, venture investor, and strategic consultant. As Managing Partner of Sandy Hill Ventures he concentrates on venture investments, direct secondaries (equity positions in private venture companies) and alternatives. Previously, he was a founding principal of New Health Ventures, a healthcare/Internet services venture firm in Boston. Ron spent 9 years as a Senior Partner at Energy & Environmental Economics (E3) focused on M&A, new business development, and strategic opportunities in the energy/renewable industry. Ron also served as lead investor and President & COO of US Public Communications before its merger and subsequent IPO as Communications Central, Inc. (CCIX). He remained an independent director at CCI for nine years. He has been director, general partner or C-Level Executive for a number of public and private telecomm, healthcare and service companies. His formative background includes financial analysis and workouts at JP Morgan Chase NY, management consulting at Computer Science Corporation (Index Group), and venture investing at WDC, Inc.
Ron earned his B.A. in Economics from the University of California, Berkeley and his MBA from Harvard Business School. He also received financial analysis and credit training from JP Morgan Chase, New York.
Contact: ron@sandyhillventures.com
Select prior investments:
Digitalpersona
Lifelock
Communications Central, Inc. (NASDAQ: CCIX)
Healtheon (now WebMD – NASDAQ: WBMD)
Proxymed (NASDAQ: PILL)
SolarCity
MDI Instruments, Inc.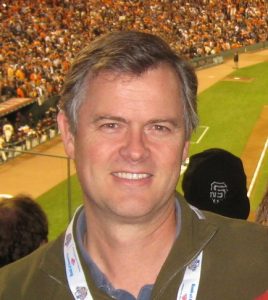 Bob Kamm
Principal, Entrepreneur in Residence
Bob's career includes experience at both large and small corporations. He started at General Motors as an Industrial Engineer in Rochester NY, eventually leaving to pursue his MBA at UCLA's Anderson School of Business. After UCLA, he served several years as a Vice President at Union Bank in commercial finance before jumping into early stage technology. His first sart-up came in 1988 with the founding of Online Documents, Inc. – first of its kind provider of electronic documents and financial disclosure services to banks and mortgage companies. Online Documents was eventually sold to Stewart Title Company – and remains in business today as part of Ellie Mae. Next, Bob joined Biometric Identification, Inc. as CEO in 1997. The company became one of the first companies to sell biometric ID products to the commercial market. He grew the company and distribution network worldwide before selling to Mytec, Inc. BI's ID solutions continue to be sold today as part of L-1 Identity Solutions. In 2001, Bob joined the board of TransDecision, Inc., helping to raise its first venture round. The following year, Bob was asked to become CEO of the company. TransDecisions provides JACA based Fleet Logistics Optimization solutions, focusing on the last 50 miles of fulfillment. The company was acquired by Servigistics, in June 2005 and remains an integral part of the company. He has special expertise in the emerging cannabis industry.
Bob currently serves as Chairman of Viewpoint Capital, sits on the board of Cultivation Technologies, and has been a board member at Crexendo Inc. (NYSE: EXE) as well as numerous emerging businesses.
Contact: bob@sandyhillventures.com